PLEASE ONLY THROW WHAT WASTE MANAGEMENT ACCEPTS INTO THE RECYCLING DUMPSTERS:
PLASTICS THAT HAVE THE RECYCLING TRIANGLE LOGO STAMPED ON THE BOTTOM
CANS
GLASS BOTTLES
NEWSPAPER/BROKEN DOWN CARDBOARD ONLY
THESE ITEMS SHOULD BE RINSED OUT AND THROWN AWAY LOOSE, NOT IN PLASTIC BAGS.
ANYTHING ELSE IS NOT RECYCLABLE, EVEN IF IT MIGHT BE PLASTIC, INCLUDING GROCERY STORE/WALMART PLASTIC SHOPPING BAGS. NO DIAPERS. NO STYROFOAM. THROW AWAY IN GARBAGE.
For details click here: WHAT IS RECYCLABLE?
CHANGES TO DROP OFF SITE PROCEDURES:
1) ONE AT A TIME: Stay in your car until the person in front of you leaves.
2) Wait for the attendant to approach you.
3) The attendant will look at your recyclables to make sure you are throwing away allowed materials.
The Drop Off Site is located at the end of Broadway in Draper.
Hours of operation are: 
Saturday Only 9:00 AM to 12:00 PM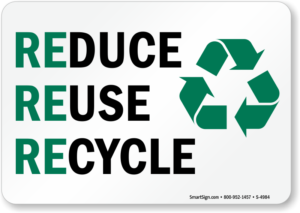 Household garbage must be in clear Town of Draper bags, available for purchase at the Town Hall or Drop Off Site: $2.50 for large, $1.50 for small size.
Recycling must be loose (unbagged). Please break down and flatten cardboard boxes.
*NOTICE- The Drop Off Site will be closed on major holidays and when temperatures are below -20 degrees F per order of Town Board