Draper is a town in Sawyer County, Wisconsin, United States. The population was 242 at the 2020 census. The unincorporated communities of Draper, Loretta, and Oxbo are located in the town.
(Home of the famous Memorial Weekend Annual Wood Tick Races!)
Abundant Natural Resources:
Public Lands: The township of Draper encompasses thousands of acres in the heart of the Chequamegon-Nicolet National Forest and the Flambeau River State Forest.
Waterways: There are numerous fishing lakes and waterways, including Blaisdell Lake with a state of the art public boat launch facility, and rustic Lake Loretta with 2 public launches. The East Fork of the Chippewa River and the Flambeau River provide excellent fishing, kayaking and canoeing opportunities. The Brunet River headwaters arising in the town are designated as a Class IA trout stream.
Wildlife: Black bear, white tailed deer, bald eagles, wolves, coyotes, bobcats, fishers and many more wild animal species are abundant in the Draper area, and you may even see elk or a stray moose passing through!
Recreation:
National and State Forest hiking, biking and cross country ski trails
Extensive ATV and snomobile trails, including a portion of the historic Tuscobia Trail
Public campground with hot shower facilities and state of the art RV campsites, with 30 and 50 amp electric hookups just off Tuscobia trail
Draper Public Park with large covered picnic shelter
Services:
Six established RESTAURANTS & BARS conveniently located along ATV and Snowmobile Trails
4 Wheel Warriors ATV Club
Loretta Trailblazers Snowmobile and ATV Club
Draper Community Club
American Legion Post 394
Draper Volunteer Fire Department
Calvary Lutheran Church, E.L.C.A.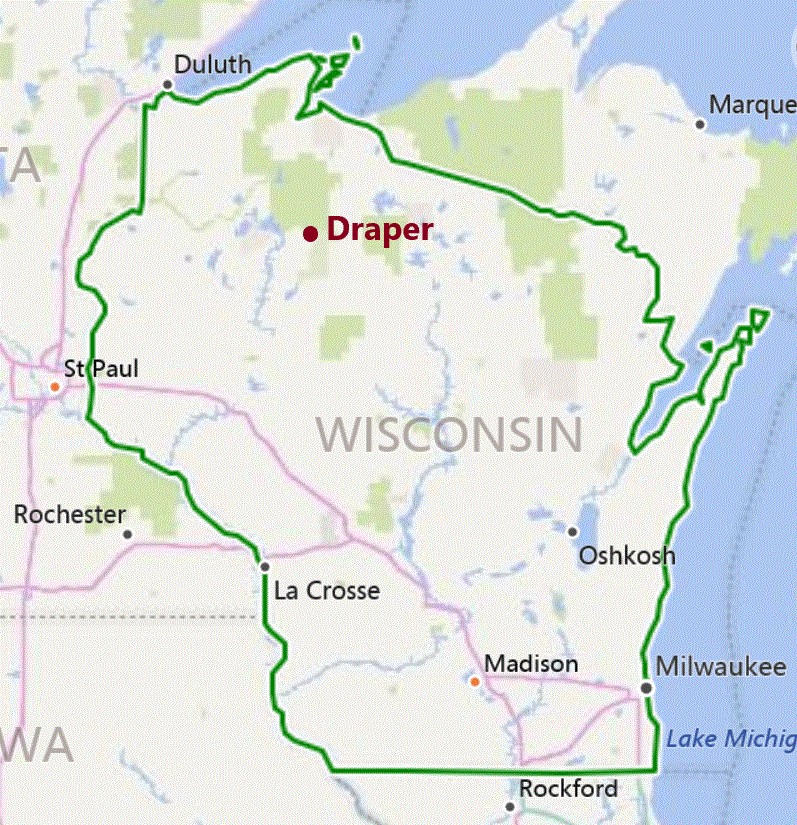 Geography:  According to the United States Census Bureau, the town has a total area of 138.2 square miles (358.0 km²), of which 136.1 square miles (352.5 km²) is land and 2.1 square miles (5.5 km²) is water.
Area: 138 sqare miles, 45 miles south of Lake Superior and 120 miles north east of St. Paul, MN. Draper is 36 miles SE of Hayward, WI, home of the Freshwater Fishing Hall of Fame and the annual American Birkebeiner Ski Race.
Nationalities: White, Native American, and Mixed Descent
Education: Students are bussed 12 miles to Winter School District https://www.winter.k12.wi.us